Why Choose Our Fitness Service?
Certified Professional
Are you looking for an experienced and professional personal trainer? We've got you covered. Our female personal trainer in Boston is a trained and certified professional who understands how your body works and can formulate a plan to help you achieve the best results possible.
Custom-Tailored Approach
At Well Taken Care Of, we understand that each body is built differently and has different limits. Therefore, our personal trainer seeks to create a holistic personal training and nutrition program custom-fit to cater to your unique body and its needs.
We Guarantee Satisfaction
Well Taken Care Of follows a results-driven process that allows us to assess the current state of your body to determine the best program for you. By doing this, our trainer can quickly come up with an effective plan suited to your needs, thus promising results you can show off to the world.
We're glad you found us and we are more than happy to work with you to achieve the healthier lifestyle you deserve.
Get in touch to get started today!
Certified Personal Training Service Tailored to Your Needs
Well Taken Care Of offers a professional Personal Training service specifically designed for your body's unique needs, helping your body feel its best, always. Our certified Women's Personal Trainer is experienced and will work closely with you to help achieve your fitness goal, keeping your body at its very best.
Our Holistic Nutrition Coaching is a coaching program sees you benefit from super foods that don't just help you lose weight but also improve gut health and mental health.
We understand that each of us has our own skill level, medical history, fitness goal, and body tolerance abilities, and because of that, we have divided our personal training service to help meet your specific needs.
Below are our personal training services and how they can benefit your fitness goals:
One-on-One Sessions: Here, our personal fitness trainer will work with you to determine your skill level and body tolerance based on your medical history and anatomical makeup. This approach helps to set a more practical fitness goal while creating the right regimen to achieve the desired results.
Our personal trainer has extensive knowledge of human anatomy and specializes in creating customized fitness and weight loss programs.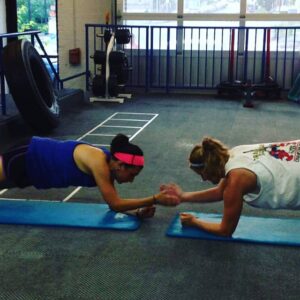 Duet Training: Our small-group personal training sessions, also known as duet training, is usually done with groups of two, to ensure sufficient attention is given to each participant by our personal trainer.
This session is a cost-effective option designed for those seeking the benefits of small group training. Duet training can be done with a friend, loved one, or another client who has similar fitness goals.
Specialty Training: Do you have a specific fitness or body goal you'd like to achieve? If you do, then look no further! Our Specialty Training service caters to (runners, golfers, tennis players, hikers) those who have a specific performance fitness goal in mind.
Our specialized training sessions are created to suit your needs, schedule, all while helping you break through barriers and become a better version of yourself. We provide you with personalized fitness programs tailored to meet both your health and fitness goals.
Why use our Personal Training Service?
We are Result-Driven
At Well Taken Care Of, we prioritize results and wellness in every training session. Our female personal trainer has an expansive knowledge of human anatomy and creates training sessions with the intent to not only achieve but exceed the desired wellness goal.
A Personalized Approach
We understand the human body and realize that every person is different. Each of us has a different skill level, medical history, and tolerance. Therefore, we follow a personalized personal training approach that is uniquely suited to your body that doesn't compromise your individual goals.
Health Care Cost-Effective Option
Linda Evbu, our personal trainer, aims to foster a love for exercise. This option helps saves in health care costs, through long-term adherence to the exercise routine long after your sessions end here.
Well Taken Care Of provides you with the most professional personal trainer who is dedicated to improving not only your body but your wellbeing. These benefits are more important than the cost as they are investments in keeping you healthy.
Be Proactive and Schedule Your Complimentary Consultation Today!